Stockists
Montville Clock Shop
You'll find our key chains in this beautiful store on the Sunshine Coast.
We often find ourselves at this store enjoying the step back in time experience it provides at each wonderful visit.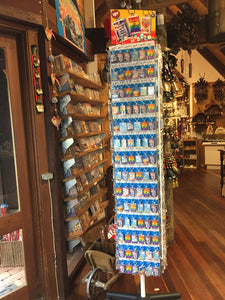 LiveLife Pharmacy Coolum Beach
This gorgeous store in Coolum Beach has a fantastic range of various assorted gifts and items.
Traditional Herbs & Scents
If you are a lover of spice and herbs, come in and check out the locally made goodies and make sure to grab a named key ring chain while you're there.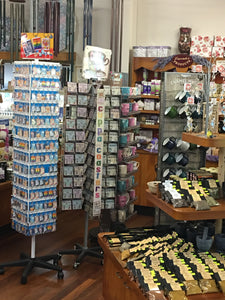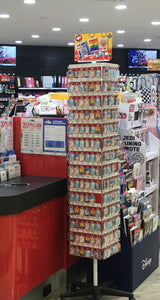 Nextra Brook News
The atmosphere of this store is amazing, very vibrant and inviting to shop in. With a great range of selective gift wares catering for all ages.
German Cuckoo Clock Nest
Love coming into this store as they play German pop/dance songs and often find myself bopping along with the tunes while browsing through the massive gift range they have in store.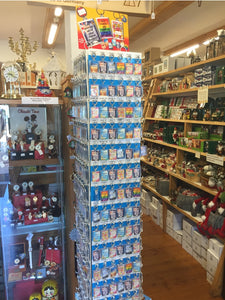 Queensland
Broadbeach Oasis News Broadbeach QLD 4218
Caboolture Park News CABOOLTURE QLD 4510

Caloundra Newsagency Caloundra QLD 455

Ciel Bleu Gifts Southport QLD 4215

Clock Shop Montville Montville QLD 4560

Collingwood Park News Redbank QLD 4301

Cooktown Croc Shop Cooktown QLD 4895

Daintree Originals Daintree QLD 4873

Earlville Nextra News Earlville QLD 4870

Emu Park News & Gifts Emu Park QLD 4710

German Cuckoo Clock Nest Eagle Heights QLD 4271

Harbour Town News & Gifts Biggera Waters QLD 4216

Hickmott's Supa News Bowen QLD 4805

Just Souvenirs Airlie Beach QLD 4802

Kezzy's Emporium Redcliffe QLD 4020
LiveLife Pharmacy Coolum Beach QLD 4573
News Extra Beenleigh Marketplace QLD 4207

News Extra Circle News Surfers Paradise QLD 4217

News Extra Springwood Mall Springwood QLD 4127

newsXpress Brassall Brassall QLD 4305

newsXpress Laidley Laidley QLD 4341

newsXpress Tully Tully QLD 4854

Nextra Booval Fair Booval QLD 4304

Nextra Bribie Island Bribie Island QLD 4507

Nextra Brook News Mitchelton QLD 4053

Nextra Capalaba Park News Capalaba QLD 4157

Nextra Clifton Clifton Beach QLD 4879

Nextra Mareeba News Mareeba QLD 4880

Nextra Redlynch Central Newsagency Redlynch QLD 4870

Nextra Sunnybank Hills Sunnybank Hills QLD 4109

Nextra Wynnum Plaza Wynnum QLD 4178
Oakey Newsagency QLD 4401

Ob La Di Cardwell QLD 4849

Pams Affordable Gifts MORAYFIELD QLD 450

Poppet Head Charters Towers City QLD 4820
Prashar News East Toowoomba QLD 4350

Rainbow Reef Kuranda QLD 4881

Raintrees Newsagency Manunda QLD 4870

Ravenshoe Newsagency Revenshoe QLD 4888

Red Poppy Art Collective Redcliffe QLD 4020

Shop2Go Cairns City QLD 4870

Sunnybank Plaza Newsagency Sunnybank QLD 4109

Supanews Keperra Keperra QLD 4054

Taigum News Taigum QLD 4018

The Lucky Charm-Toowoomba Toowoomba QLD 4350

The Lucky Charm-Toowoomba Plaza Kearneys Spring QLD 4350

The Lucky Charm-Wilsonton Mount Lofty QLD 435

Traditional Herbs & Scents Yandina QLD 4561

T-Shirt World Townsville QLD 4810

Woods News & Lucky Casket Ayr QLD 4807

Treetops Plaza News Burleigh Waters QLD 4220
New South Wales
Adore Homeware & Gifts Hornsby NSW 2077
Beecroft Place Market Newsagency Beecroft NSW 2119

Belmont City Newsagency Belmont NSW 2280

Best Wishes Gifts & Cards BROOKVALE NSW 210

Blackheath Newsagency Blackheath NSW 278

Budget Tobacconist BASS HILL NSW 2197

Burwood Plaza Newsagency Burwood NSW 2134

Carlingford Court Newsagency (Nextra) Carlingford NSW 2118

Christian BookCentre Dubbo DUBBO NSW 2830

Daisy's Decor Gundagai NSW 2722

Dean's Shoes and Keys Albury NSW 2640

Engadine Newsagency Engadine NSW 2233

Forbes Christian Bookshop Forbes NSW 2871

Freechoice Lavington Lavington NSW 264

Hill Top Village Store Hill Top NSW 257

Hycraft Shoe Repairs CHERRYBROOK NSW 212

Lane Cove Newsagency Lane Cove NSW 2066

Luci Mac's Casino NSW 2470

Mag's News Glenmore Park NSW 2745

Morisset Newsagency Morisset NSW 2264

Newsnew Newsagent Bondi Junction NSW 2022

Newspoint Liverpool Liverpool NSW 2170

newsXpress Campbelltown Ambarvale NSW 2560

newsXpress Helensburgh Helensburgh NSW 2508

newsXpress Parkes Parkes NSW 2870

Norwest Shoes & Keys Baulkham Hills NSW 2153

Oak Flats Newsagency Oak Flats NSW 2529

Oberon Licensed Post Office OBERON NSW 2787

Open Door Bookshop TEMORA NSW 2666

Padstow Newsagency Padstow NSW 2211

Plaza Newsagency Wyong NSW 2259

Randwick Plaza Newsagency Randwick NSW 2031

Shelly News & Gifts Shellharbour NSW 2529

Springwood Newsagency Springwood NSW 2777

The Entrance Newsagency The Entrance NSW 2261

thom, dick and harry's Broken Hill NSW 2880

Threadz & Home Ulladulla NSW 2539

Unanderra newsXpress Unanderra NSW 252

Wallsend Newagency Wallsend NSW 2287

Warrawong Lotto & Gifts Warrawong NSW 2502

West Ryde Marketplace News West Ryde NSW 2114

Windsor Newsagency Windsor NSW 2756
Victoria
Adventist Book Centre Nunawading VIC 3131
Bayswater Newsagency & Lotto Bayswater VIC 3153
Central Trophies & Gifts Bendigo VIC 3550
Country Trends Maryborough VIC 3465
Davis Print Portland VIC 3305
Firmin's Lane Garden/"Gifts" Supplies Morwell VIC 3840
Gateway Newsagency Warrnambool VIC 3280
Glenda's Candle Scents Healesville VIC 3777
Great Ocean Road Trading Post Apollo Bay VIC 3233
Highpoint News & Tatts Maribyrnong VIC 3032
Lara Post Office Lara VIC 3212
Lilydale Marketplace Lotto & Newsagency Lilydale VIC 3140
Lorne LPO Lorne VIC 3232
Lucky Malvern Lotto Malvern VIC 3144
Main St. Newsagent Bairnsdale VIC 3875
Maldon Newsagency Maldon VIC 3463
Million Dollar Lotto Keysborough VIC 3173
National Holden Museum Echuca VIC 3564
Nelly's Niche Beechworth VIC 3747
newsXpress Cobram Lotto Cobram VIC 364
newsXpress Southland Cheltenham VIC 3192
newsXpress Sunbury Sunbury VIC 3429
Nextra Glenroy Newsagency & Lotto Glenroy VIC 3046
Nextra Leongatha Leongatha VIC 3953
Nextra Wendouree Village Newsagency Wendouree VIC 3355
North Ringwood Newsagency Ringwood North VIC 3134
Pakenham Photo & Electronics Pakenham VIC 3810
Rosebud Newsagency & Lotto Rosebud VIC 3939
Roylaine Studios Warragul VIC 3820
Sale Authorised Newsagency Sale VIC 3850
Shepparton Plaza News & Lotto Shepparton VIC 3630
Simple Indulgence WODONGA VIC 3690
Smits and Bits Sassafras VIC 3787
Something Beautiful Ararat VIC 3377
Sweet Giftz CAMPERDOWN VIC 3260
TSG Elgin News & Tatts Carlton VIC 3053
TSG Quayside News & Tatts Frankston VIC 3199
U-Neek Souvenirs & Motor Sport Cowes VIC 3922
Victoria's Sights & Delights Hamilton VIC 3300
Warracknabeal Pharmacy Warracknabeal VIC 3393
Williamstown Nextra & Lotto Williamstown VIC 3016
Wonthaggi Newsagency Wonthaggi VIC 3995
Yarrawonga Newsagency & Lotto Yarrawonga VIC 3730
Your Surprises Ringwood VIC 31
South Australia
Berri Plaza Newsagent & Photo Berri SA 5343
Country Living Homewares & Flowers Kadina SA 5554
Divine Somethings Old, Something New Elizabeth Park SA 5113
Fullarton LPO Fullarton SA 5063
Hahndorf Kangaroo & Sheep Skin Products HAHNDORF SA 5245
Its n Bits Home O'halloran Hill SA 5158
Modbury Locksmiths Modbury SA 5092
Munno Para Newsagency SMITHFIELD SA 5114
Pasadena LPO Pasadena SA 5042
Salisbury Downs LPO SALISBURY DOWNS SA 5108
Tanunda Newsagency Tanunda SA 5352
Victor Central Shoe Repairs VICTOR HARBOR SA 5211

Northern Territory
Crocodylus Park Berrimah NT 828
Leanyer Newsagency Leanyer NT 812
newsXpress Palmerston Palmerston NT 830
TSG Karama Karama NT 812

Australian Capital Territory (ACT)
Cooleman Court Newsagency Weston ACT 2611
Loftus Newsagency Loftus ACT 2232
newsXpress Kippax Holt ACT 2615

Tasmania
(Noun) A Place For Things Smithton TAS 7330
Beach Newsagency & Lower Sandy Bay LPO Sandy Bay TAS 7005
Charles Street Central Newsagency Launceston TAS 7250
East Devonport Newsagency & Lotto East Devonport TAS 7310
Elizabeth Matthews Gifts Devonport TAS 7310
Glenorchy Central Newsagency Glenorchy TAS 7010
Kents Treasures Oatlands TAS 7120
Longford News Longford TAS 7301
Maggies Cards & Gifts Burnie TAS 7320
Penguin Newsagency TAS 7316
Roses Newsagency Scottsdale TAS 7260
So Silver, So Gold Burnie TAS 7320
Something 4 Everyone Latrobe TAS 7307
The Magic of Maggies Devonport TAS 7310

Western Australia
Albany Shoe Repairs Albany WA 6330
Australind News & Post Australind WA 6233
Crosslands Newsagency Bunbury WA 6030
Giftland Trading Malaga Markets WA 6090
Harvest Lakes & News Atwell WA 6064
Kalamunda Lottery Centre & Newsagency Kalamunda WA 6076
Kardinya Park Newsagency Kardinya WA 6163
Kinross Lottery Centre & News Kinross WA 6028
Malaga Licensed Post Office Malaga WA 6090
Miami Newsagency Falcon WA 6210
Mullaloo News & Lotteries Mullaloo WA 6027
Newpark Lottery Centre & News Girrawheen WA 6064
News Extra Sorrento Quay Hillarys Boat Harbour WA 6025
newsXpress Armadale Central Armadale WA 6112
newsXpress Silver Sands Mandurah WA 6210
Nextra Carousel Cannington WA 6107
Palmyra Supa News Palmyra WA 6157
Parry's Newsagency Nollamara WA 6061
Springs News Bennett Springs WA 6063
The Lucky Charm-Mirrabooka News Mirrabooka WA 6061
Vale Newsagency & Lotto Canning Vale WA 6155